HFVerticalScrollerRepresenter Class Reference
[View]
An
HFRepresenter
responsible for showing a vertical scroll bar.
More...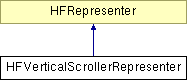 ---
Detailed Description
HFVerticalScrollerRepresenter
is an
HFRepresenter
whose view is a vertical NSScroller, that represents the current position within an
HFController
"document." It has no methods beyond those of
HFRepresenter
.
As HFVerticalScrollerRepresenter is an especially simple representer, it makes for good sample code.
---
The documentation for this class was generated from the following file: